---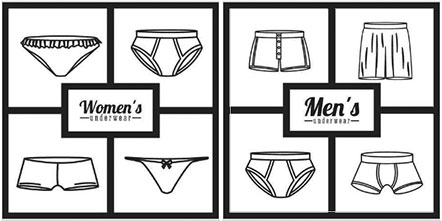 Dear Sir/Madam,
We are a professional Underwear exporter and manufacturer in China.
Having been engaged in apparel custom for 22 years, we mainly provide professional Custom and OEM & ODM service of Underwear, Socks for men, women, and kids. As a combination of functionality, comfort, fashion and leisure, our products are very popular among customers.
Here Are Some Of The Companies We Have Worked With:
Beverly Hills Polo Club, Palmers, Arrow, CALVIN KLEIN UNDERWEAR, Lee Cooper, GAM & GAM, Zipp, Tomasa, Gina Underwear, ILITYE, and so on.
Product Summary:
Men's Underwear: Briefs, Boxer Briefs, Boxer Shorts
Men's Socks: Casual Socks, Bussiness Socks, Athletic Sock
Women Underwear: Slips, Panties, G-String, Bra
Women Socks & Kid Socks
About Our Services
- On-time delivery is one of our key points.
- Quality product with Buyer satisfaction.
- Strong inspection team.
- Having our own production facility enables us to scale quickly to meet high volume demands.
- We have a professional design department that can meet the diverse design needs of customers for packaging, patterns, and logos, etc. Helping customers' products become more competitive in the market.
- We can offer flexible terms of payment, prices and delivery options - making us a perfect partner regardless of the size of your business.
Looking forward to your positive response in this regards.
For more information please visit our website: www.ubestunderwear.com
Sophie
(Manager Exports)
----------------------------------------------
Baoding Ubest Import & Export Co.Ltd.
Room 2902-2904, Maoye center, Baoding City, Hebei, China
Tel: 86 312 3113 390
Whatsapp: 86 159 3376 9723
Email: admin@ubestinc.com
Web: https://www.ubestunderwear.com/
---