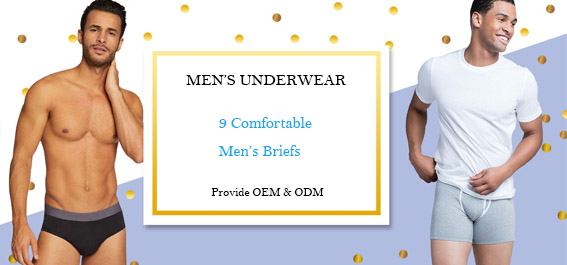 If you are a fan of the brief, as many men are, you are probably someone concerned about comfort. Men's briefs tend to be an unfairly maligned style, but they are considered by many who value comfort to be superior to the ubiquitous boxer brief because they keep everything in place and they don't bunch or ride up. There is a lot of choices, so we have researched the most popular and best-selling styles to determine what are some of the most comfortable brands available.
David Archy Bamboo Rayon Soft Lightweight Pouch Briefs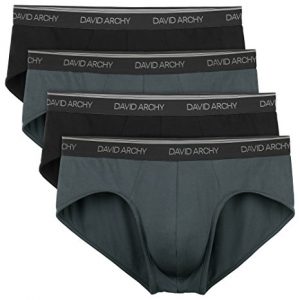 An inexpensive, modern cut style with the latest fabric technology is the David Archy Bamboo Rayon Soft Lightweight Pouch Briefs. It is a popular option that is a favorite due to its low price, nice cut, and super soft fabric. This style is Bamboo rayon that is notable for its exceptionally soft feel, thinness, breathability, and stretch. The feeling of the material is very silky, so you will hardly feel that you are wearing them. The fabric is somehow also able to keep you warmer in winter and cooler in summer. The cut of this design is such that you have the right amount of rear and side coverage, although it isn't a high rise fit. The cut is also much loved by the men who wear it due to the flattering pouch with a double layer front and the comfortable fit on the leg. The colors that it comes in are a little limited but should be fine for most people.
Calvin Klein Steel Hip Brief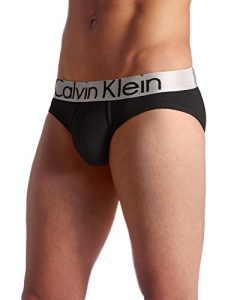 Those who like close-fitting underwear will love these Calvin Klein Steel Hip Briefs. These are a great option if you are athletic and lean, although if you aren't, there is no reason that you can't enjoy the silky softness of this particular style. This CK design has a seamed contour pouch with no fly. One of the nicest features of this style is the metallic microfabrication logo waistband, which is ultra-smooth and silky. It is a little bit wide, but it helps the design to stay up comfortably. The Steel Hip is known for being super comfy while at the same time being very sexy. They are a little on the pricey side, but they should last quite a long time as they wash very well and are reasonably durable. The microfiber fabric gives this design the right amount of stretch so you won't feel constricted, but you will still have the right amount of support. The other great thing about the fabric, apart from just being soft, it is also able to keep you cool so that you won't overheat in warmer weather. You can get this style in a rainbow of colors, so there is something for everyone.
2(X)IST Essential 3-Pack Contour Pouch Briefs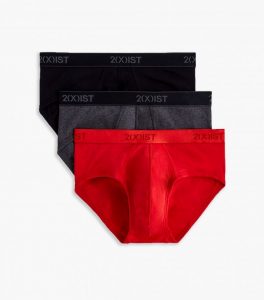 The 2(X)IST Contour Pouch Brief is a great option if you are looking for a good quality, classic design for a reasonable price. This particular style has a contour pouch that offers well-positioned support. The contoured pouch is the critical feature to the comfort of this style, as it keeps everything snug and not squished. It means that it is good underwear for everyday wear or for working out. Apart from the pouch, it is a straightforward style that will look good on most body types. The elastic waistband has the logo detail and is reportedly not too tight, yet can stay up even with rigorous movement. You get three in a pack for around $34, and they come in a good number of color options.

Hanes FreshIQ Comfort Flex Waistband White Briefs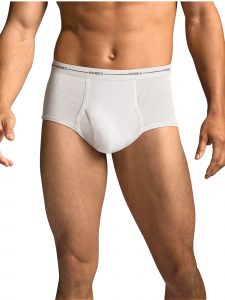 Hanes have a lot of different options for men's briefs, some a little better than others. The Hanes FreshIQ Comfort Flex Waistband White Briefs is one of the great budget options Hanes offers. They will feel excellent because of the comfortable 100% cotton fabric. They should last a little longer than some of the other Hanes styles due to the high-quality material. The fit is full rise so they have a lot of coverage at the back and won't ride up. The waistband is a comfort flex design with the Hanes logo. They wash well and are reportedly very comfortable.

BOSS Cotton Mini Briefs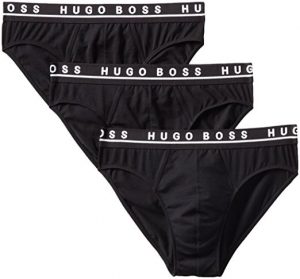 For those who are looking for a low rise waist, you may want to check out BOSS Cotton Mini Briefs. They are almost all cotton except for 5% elastane that gives them a little bit of stretch. They come in a pack of three in either solid colors or three different color options. These are great fitting, low rise style that is well made and has a modern style. The fit is flattering for most body types, and they are comfortable enough to wear every day. They are not the cheapest underwear but aren't overly expensive for the excellent quality, breathable fabric type, and the support you are getting. They don't have a fly, and the material on the waistband is very soft and won't roll over or pinch.

Ex Officio Give-N-Go Briefs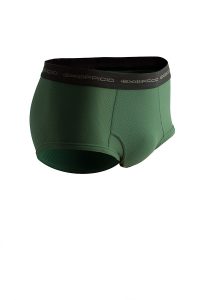 Ex Officio underwear has a reputation for being one of the best options for travel, as well as activities like hiking and camping, mainly due to the fast drying fabric and moisture-wicking abilities. It means that you only have to take a couple of pairs of them with you when you travel. You can wash them and let them dry overnight so you can pack a little lighter. Ex Officio's more popular style is the boxer brief, but the classic design has the same great features in a compact design. They are comfy, cool, and have a lot of colors available. A lot of people find them more comfortable than cotton and wear them as their everyday underwear. Some of the other key features of this style are that they have the right amount of stretch while still feeling soft and breathable, and they provide excellent support. Some men do find the back of this style to ride a little high.

Stafford® Cotton Full-Cut Briefs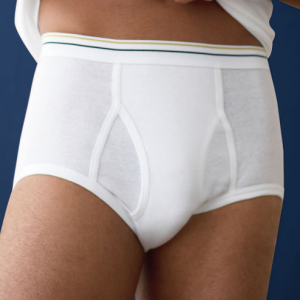 If you are a man who loves tighty-whities, you should check out the Stafford® 6-pk. Cotton Full-Cut Briefs. Stafford's full-cuts designs are a classic that has been around for years and has a devoted following. These are a very old-school style of briefs that will sit just below your belly button. They are made of 100% cotton that is durable and will last for years. They aren't expensive, as they work out to a bit below $5 per pair, so you can stock up without breaking the bank. They are tag-free and have a comfortable elastic waistband. Although the full rise waistband can be the height of comfort, be aware that this underwear isn't the sexiest option around.

Tommy John Air Briefs 2.0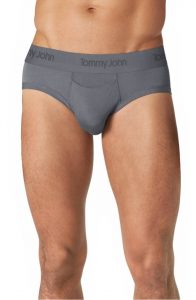 Tommy John boxer briefs are some of the most popular and buzzed-about underwear going. The Tommy John brief also appears to have quite a loyal following. These low-rise options are cut from a silky, super-soft microfiber with lots of stretch to it. They have a horizontal fly design that a lot of people like and find more natural to use, while others prefer a vertical fly or no-fly at all. You also won't get any riding up or bunching of the fabric, and you will find that everything stays where it should. The cost of the Tommy John briefs is around $30 a pair, so they are pretty pricey, but the success of this brand shows that men are willing to pay for a good quality pair of underwear.
Mack Weldon Briefs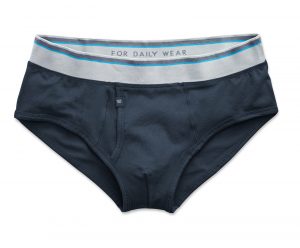 Another favorite, newer brand that men seem to really like is the Mack Weldon brand briefs. They are made with a blend of 47.5% Long Staple Cotton, 47.5% Modal and 5% Spandex, so the material is super nice and supportive. They cost around $20 a pair, and they come in quite a wide array of colors, some with interesting patterns. The style is a classic design, so the fit is mid-rise at the back with the right amount of coverage at the front and the sides as well. This cut is flattering for most body shapes, and they are a great option if you are a fan of a classic brief style. What makes this underwear a little bit different is that it has mesh zones to help you stay cool in warmer weather or if you are working out. Another comfort feature that it has is a no-roll waistband, that shouldn't be too tight and constrictive or slip down if you are moving around a lot. If you are interested in the brand but are a little unsure if they are right for you, Mack Weldon offers a try on guarantee on your first pair that you purchase, so if you find you don't like them, they will either send you a different size or style or give you a refund.