You can't underestimate the importance of feet to the runner. Your feet – how they feel and how much wear and tear they absorb – can make or break the quality of your laps. As a runner, you gotta take care of your feet. Whether it's uncomfortable pressure points, arch strain, or sweaty, sweaty feet, there are many problems the best athletic socks could solve for runners. Here are ten that do exactly that: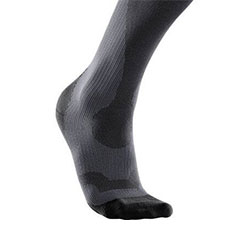 1. The 2XU Compression Performance Run Sock
Runners like compression socks because they stimulate blood flow and provide therapeutic muscle support, in turn minimizing post-run soreness, swelling, and other types of muscle fatigue and injury. Manufacturers have begun to seriously compete for compression-lovers' loyalty. That's the goal of the 2XU Compression Performance, Run Sock. It's like a moisture-wicking athletic sock and high-tech compression sleeve in one.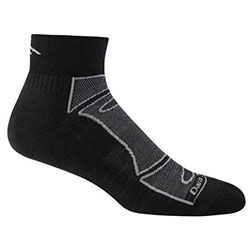 2.Darn Tough Vermont Merino Wool Ultra-Light Cushion Athletic Socks
If you've heard of the temperature-regulating benefits of merino wool, you may want to give Darn Tough a try. Half merino wool, half synthetic materials, Darn Tough Vermont Athletic Socks are a popular pick with exceptional durability and multi-season appeal.
Tough yet soft, odor-controlling, and well-ventilated, these all-American duds are great for any kind of run. Packaged with an unconditional lifetime guarantee, they are clearly made by artisans who believe in their handiwork. They are one of the toughest contenders among the best athletic socks.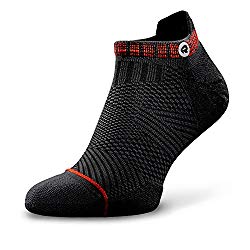 3. Rockay Accelerate Running Socks
A new high-performance sock made by runners, for runners. Made from a blend featuring organic merino wool that is 100% mulesing free, these socks offer comfort, durability, and some of the best moisture-wicking technology on the market. Their compression-fit and arch supporting feel make them an ideal choice for distance running, trail running, or sports like tennis and basketball.
Maybe the best feature of Rockay Socks is their anti-blister features. Whether it's a pick-up game, a half marathon, or a long day of walking as a tourist, the padded heel and toe keep feet comfortable and socks dry and in place for the long haul. Improve your performance with a sock that keeps your feet cool and comfortable and a company that cares about performance and durability.